Welcome to Europe, where almost every problem is a crisis.
If it's not Greece's debt threatening to topple a currency or the largest influx of refugees since World War II, it's Russian aggression toward its neighbors. The EU's response: hold another summit.
Over the past 10 months, leaders and government finance chiefs have trudged to Brussels for 19 summits and emergency meetings -- with a 20th planned for Sunday -- as they wrangled over a financial lifeline for Greece, the surge of migrants and Russia's violent inroads in Ukraine. That tally compares with eight meetings last year and nine in 2013.
While summit inflation illustrates the proliferation of crises on Europe's doorstep, it also underscores the difficulty of doing business when 28 leaders with 28 sets of domestic concerns talk through the night and then blame the EU when they fail to make progress.
"These summits are happening almost permanently because the European Union is in the middle of an existentialist crisis," said Drew Scott, a professor of EU studies at the University of Edinburgh who argues that only national leaders have the legitimacy to take on major challenges. "In a world of euro-skepticism, we've seen a major return to domestic politics that we haven't seen since the sixties."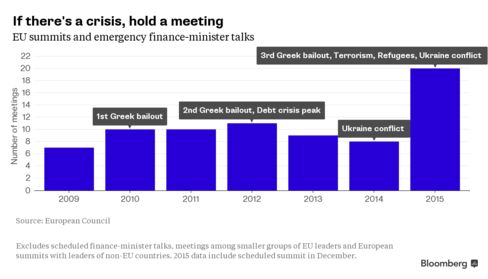 As the refugee crisis worsens, the next gathering -- little over a week after the last fractious summit -- will see German Chancellor Angela Merkel join leaders from eight countries in central and southeastern Europe gather in Brussels to focus on the flow of migrants through the Western Balkans.
"The EU decision-making itself has become so infuriatingly complex that it becomes a source of crisis itself," said Fredrik Erixon, director of the Brussels-based European Centre for International Political Economy.
European decision-making has never been straightforward, of course, and there were arguments and crises before -- the lifting of the Iron Curtain posed a threat to the EU's very rationale. The bloc's last-minute success in preventing Greece's euro-area exit in July and leaders' willingness to at least discuss a common solution to the refugee crisis show the system still has enough resilience to avoid a major breakdown.
With more than a million migrants set to reach the EU this year, that system faces further tests. Leaders at last week's summit in Brussels clashed over sharing the cost of refugees from countries riven by violence in the Middle East and Africa and how to police the bloc's borders.
Meeting After Meeting
Sunday's talks, announced by European Commission President Jean-Claude Juncker on Wednesday, come after countries along the Western-Balkan route resorted to unilateral decisions such as closing borders, shutting transport links and shifting migrants to neighboring nations. Merkel has pledged to grant asylum to genuine refugees.
Leaders are "trapped between on the one hand their own idea of what they'd like to do and on the other hand an increasingly skeptical population that holds them back," Erixon said. "In that trap the only thing you can do is defer problems and hope they're going to be easier to deal with later."
Last week's meeting was a scheduled summit -- one of four per year, spaced about three months apart. Yet it came just three weeks after leaders rushed to Brussels for their first attempt to thrash out a plan to calm the refugee chaos. That meeting in turn was just two months after presidents and prime ministers stayed up until 9 a.m. disagreeing and then agreeing to bail out Greece's economy for a third time.
'Knee-Jerk Reaction'
It was never supposed to be like this.
In the old days before the fall of Communism, the EU was a bloc of no more than 15 nations and summits were grand affairs. Leaders would assemble in Europe's most picturesque cities and set political direction on broad issues like establishing a currency union or allowing people to live and work in each other's country. That meant officials in Brussels and ministers from national capitals could do the more technical work.
Now, with an expanded EU of 28 national governments and the rise of anti-EU parties, the old model of edging toward disaster before conjuring up a last-minute consensus is more difficult, and more risky, than ever.
Calling so many summits is "a problem of knee-jerk reaction," said Richard Whitman, associate fellow at Chatham House in London. "It reinforces a view that the EU is a bit dysfunctional and it doesn't really solve the problems."